2021 Final Championships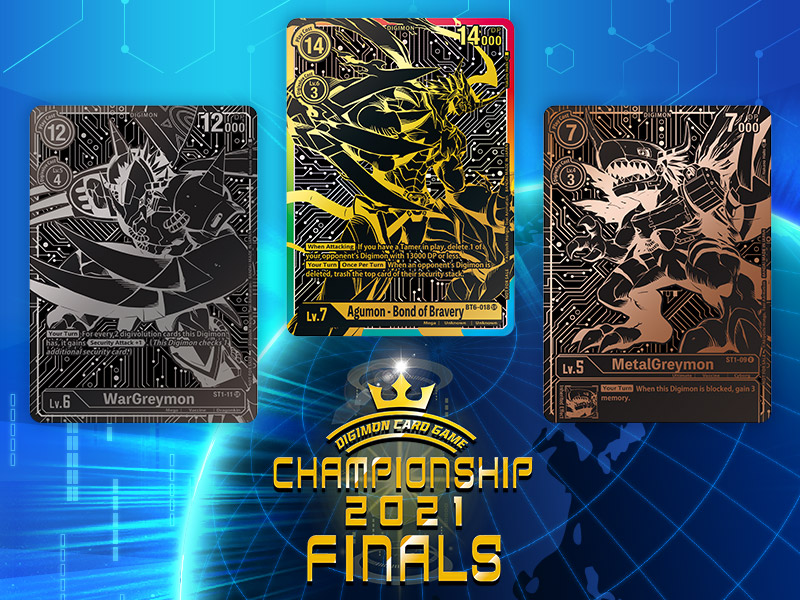 Details
The culmination of the 2021 Organized Play season is finally here!
Join a 2021 Final Championship and become the strongest tamer in your region!
These events have exclusive prizing, including the chance to earn an invite to the English Version World Championship Finals!
North American competitors must have an invite from Online Regionals or Store Championships in order to participate.
Final Championships outside of North America are Open Finals.
Important Notes:
You must be a resident living in the region listed in order to partake in that region's event. You must also register and participate from the event's region. You may only participate in one Finals event total even if you maintain residencies in multiple countries or regions. If competitors are found to violate any of these requirements at any time before, during, or after the competition, they will be disqualified from the event, forfeit all prizes, and be subject to further suspensions from Bandai organized play events.
Event Pack 2 and Judge Pack will be available during 2022 Season Organized Play events.
Prize shipping costs to be borne by the competitor.
Prize details are subject to change.
Prizing and amounts may differ depending on country or region.
Prize shipping dates to be announced.
Event Dates
| TOURNAMENT ORGANIZER | DATE | LINK |
| --- | --- | --- |
| tournamentcenter | January 29-30, 2022 | Click here |
| TOURNAMENT ORGANIZER | DATE | LINK |
| --- | --- | --- |
| Coqui | January 29-30, 2022 | Click here |
TOURNAMENT ORGANIZER
DATE
LINK
CoreTCG and
TAK USA
February 5-6, 2022
Click here
| TOURNAMENT ORGANIZER | DATE | LINK |
| --- | --- | --- |
| TAK Australia | February 5-6, 2022 | Click here |
Format
Online

Singles
Constructed
Best of 3 games, 50 minute qualifying matches.
Prize List
Participation
Participation Playmat
x1
2021 Championship Finals Tamer's Evolution Pack
x4
Event Pack
x3
Event Pack 2
x3

TOP 128
2021 Championship Finals Tamer's Evolution Pack
x2
Event Pack
x2
Event Pack 2
x2

TOP 32
Top 32 Playmat
x1
Top 32 Memory Gauge
x1
Event Pack Alt-Art Gold Stamp Set
x1
Invitation to 2022 Final Championships
x1

TOP 16 FINALIST
Finalist Memory Gauge
x1
Top 16 Greymon Framed Trophy Card
x1

TOP 8
2021 Championship Finals Tamer's Evolution Pack
x2

3rd PLACE
3rd Place Playmat
x1
3rd Place MetalGreymon Framed Trophy Card
x1
3rd Prize Trophy
x1
Event Pack Alt-Art Gold Stamp Set
x4
Event Pack 2
x4
2021 Championship Finals Tamer's Evolution Pack
x2
Booster Boxes
x6

2nd PLACE
2nd Place Playmat
x1
2nd Place WarGreymon Framed Trophy Card
x1
2nd Prize Trophy
x1
Event Pack Alt-Art Gold Stamp Set
x6
Event Pack 2
x6
2021 Championship Finals Tamer's Evolution Pack
x6
Booster Boxes
x9
Invitation to 2021 English Version
World Championship Finals
x1

1st PLACE CHAMPION
1st Place Playmat
x1
1st Place Agumon -Bond of Bravery- Framed
Trophy Card
x1
1st Prize Trophy
x1
Event Pack Alt-Art Gold Stamp Set
x8
Event Pack 2
x8
2021 Championship Finals Tamer's Evolution Pack
x8
Booster Boxes
x12
Invitation to 2021 English Version
World Championship Finals
x1
Cards
2021 Championship Finals Tamer's Evolution Pack
Event Pack
Event Pack 2
Event Pack Alt-Art
Gold Stamp Set
Booster Boxes
Memory Gauges
Participation Memory Gauge
Top 32 Memory Gauge
Finalist (Top 16) Memory Gauge
Framed Trophy Cards
Top 16 Greymon
3rd Place MetalGreymon
2nd Place WarGreymon
1st Place Champion Agumon - Bond of Bravery
Trophies
3rd Place
2nd Place
1st Place Champion
Playmats
Participation
Top 32
3rd Place
2nd Place
1st Place Champion
Judges
Judge Pack
Judge Playmat