2021 World Championship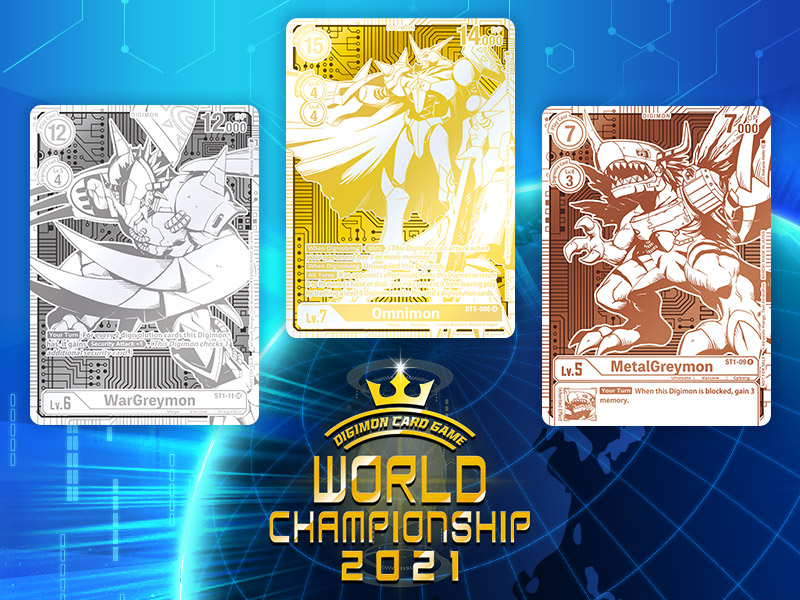 Details
The top two players from all four English Version regions battle it out for the title of World Champion this March! This invite-only tournament will take place through the Digimon Card Game Simulator shown at DIGIMON CON, and will be broadcast with commentary for the world to see! Don't miss these matches from some of the best players in the world!
Important Notes:
This event is invite-only. All participants have already been contacted regarding this event.
Prizes will be shipped after the broadcast.
Event Schedule
Online Broadcast

March 26: Qualifying Matches
March 27: Finals
Event Format
Qualifying Matches and Finals: Best-of-3 games.
Competitors
Champion and Runner-Up from North America, Europe, Latin America, and Oceania 2021 Final Championships.
Prize List
Participation
2021 Worlds Omnimon Alter-S
x1
2021 Worlds Omnimon and Shoutmon DX Playmat
x1

4th Place
2021 Finals Framed Trophy Card
x1

3rd Place
2021 Worlds 3rd Place
MetalGreymon Framed Trophy Card
x1

2nd Place
2021 Worlds 2nd Place
WarGreymon Framed Trophy Card
x1

1st Place
2021 Worlds 1st Place
Omnimon Framed Trophy Card
x1
2021 World Champion Trophy
x1
Card
2021 Worlds Omnimon Alter-S
(1 card)
Playmat
2021 Worlds Omnimon and Shoutmon DX Playmat
Trophy Card
2021 Worlds 3rd Place MetalGreymon Framed
Trophy Card
2021 Worlds 2nd Place WarGreymon Framed
Trophy Card
2021 Worlds 1st Place Omnimon Framed
Trophy Card
Trophy
1st Place